Nissan street racing cars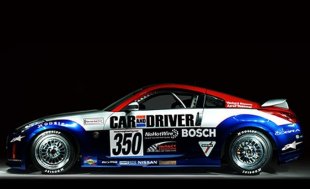 Can a championship winning club racer and America's best-selling enthusiast car magazine drive a bone-stock Nissan 350Z off the streets of Los Angeles and into the premier stock-body road racing series in the United States? Car and Driver magazine in concert with San Francisco entrepreneur and amateur racer Richard Biscevic, intend to find out. The Car and Driver/NoHotWire Ravelco project Nissan 350Z will run the 2007 Grand American Cup season and learn what it takes for a group of racing amateurs and car magazine editors to compete in the nation's newest, hottest road racing series.
Two prototype non-saleable 350Zs belonging to Nissan Motor Corp. have already been diverted from their date with a junkyard crusher and shipped to Impact Engineering in San Jose to be transformed into Grand Am Cup racers. The 350Z has proven itself competitive with the Porsches, BMWs and Mustangs that run in the GS Class of Grand Am Cup. The process of converting stock cars to racing is a slow and arduous one. The team will spend over 500 hours stripping the cars of their interiors, meticulously seam welding the body for strength, installing roll cages, rebuilding the engines, redesigning the fuel systems, installing new suspensions, and reinstalling the cars' engine management electronics. The cars will be painted by Collision Craft in San Pablo, California. All this and more must be done before the team has a chance to turn a wheel testing sometime in October, 2006. Time will be precious. The cars are set to debut at the 25 Hours of Thunderhill enduro in Willows, California in December of 2006 The team will have just a few short months to apply what it learns to before the 2007 Grand Am Cup season opener in Daytona, Florida in January of 2007.
Share this article
Related Posts