Customize Your truck
Look at the styling of your truck, and figure out the image you wish to project with it. There are several options you can look at that will radically change the truck's appearance. Here are some:
Lift kits. These may be simple blocks that fit between the axle and leaf springs to raise the back end, and spacers for the coil springs to raise the front. This may give your truck a more aggressive appearance.
Low rider effects. By reducing the leaf springs and installing shorter coil springs at the front, and using low profile tires on wide rims, you can make your truck appear to hug the ground.
Upgraded tires and rims. This is an area where the cost may really hit your pocketbook, but some chrome spoke rims, spinners, or white spoke steel rims will instantly change your truck's appearance. Adding white raised letter tires, very wide whitewalls, or large "mud" tires can change it even more.
Chrome accessories. Chrome bumpers, trim packages, running boards, grill guards, and bed rails can liven up the appearance and add significant "shine" to your pickup.
Tonneau covers. These will help transform your truck into a sleek road machine, especially with a drop kit to make it a low rider. An added benefit would be having a dry cargo area in the truck bed.
Window tinting. Here, you can get the benefit of a slightly cooler air temperature, as well as the look of bronze tinted, or even artistic looking mural window tinting. Some states have differing laws as to how dark the tinting can be, so check before you invest in this.
Brush guards, grill covers, and winches. For what may be the ultimate in "rugged" effects, look at grill covers and brush guards, as well as winches that fit into them, or on custom built bumpers.
Add mudflaps with stickers of your favorite brand. This can be accomplished by making your own with a thick rubber mat, a knife and some creativity. The best size to use depends on your preference. Generally, the bigger, the better. When you are done making them, collect a few of your favorite stickers to add some class to your mud flaps.
Add lights to your cab, running boards and tailgate. This step is a little more involved because it requires wiring. Pick up a set of cab lights at your local auto parts store and some red lights to mount in the space under your tailgate.
Buy and install fog lights, either on the front bumper, or on a roll bar over the rear of the cab. They can be chromed, with fancy covers, or plain painted ones, and will help with visibility when driving in poor weather.
Cut your muffler off. This is the cheapest modification but definitely gets you noticed. The easiest way is to sawzall it off and just leave the pipe unhooked. Or, you could connect it back up using flexible pipe. Check the noise level laws for your state, and make sure you do not disable the catalytic converter if you make this modification.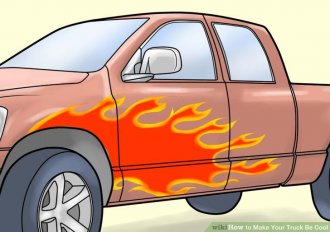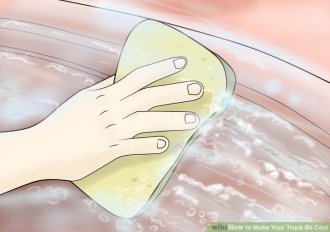 Share this article
Related Posts